Featured Story
Hospice Provides Acceptance and Comfort for LGBT Patient Without Support System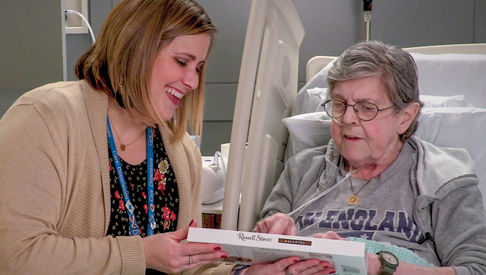 "Not everyone has family there for them," shared hospice patient Joan Casey. The 81-year old woman with severe chronic obstructive pulmonary disease (COPD) was quick-witted, intelligent and facing the reality of her disease without the benefit of loved ones to support her. Joan says that her isolation from family began at an early age when she came out as lesbian and was immediately rejected. "There was one aunt who accepted me as I was, but that was it," recalled Joan.

After retiring from a career as an accountant for several non-profit organizations, Joan was diagnosed with COPD. Over time, her breathing became more labored and the disease sapped her of energy. She became dependent on oxygen and eventually needed to move to a skilled nursing setting. It was shortly after this time that Joan became a hospice patient with Care Dimensions.

Without any close family and still dealing with that early rejection, Joan struggled and feared not being accepted. "When I first starting working with Joan, she talked often about her feelings of helplessness. She was grappling with her inability to return homeand losing her independence. We spent many weeks processing her fears, finding simple ways to give her control over her surroundings," Care Dimensions Social Worker Inez "Cheshire" Schanker recalls of her early visits with Joan.

While weekly visits with the hospice nurse and social worker gave Joan the boost she needed physically and emotionally, they did far more. "Being accepted without judgment allowed Joan to feel truly safe for one of the first times in her life," said Cheshire.

Joan's symptoms spiked and she needed the more intense clinical care of the Care Dimensions Hospice House to bring them under control. "When the ambulance drove up to the hospice house I was sure we'd taken a wrong turn," said Joan. "It was beautiful and like nothing I could have imagined." Knowing that a new environment was likely to increase Joan's anxiety, Cheshire visited with her, but within hours she felt like she was at home. "From the day I arrived, I never felt like a stranger. It felt like I was part of a bigger family," said Joan.

Joan's health continued to fail and her symptoms required that she remain at the hospice house for several weeks through Christmas and seeing her beloved Patriots win the Superbowl. She grew close to the staff and volunteers and loved giving out favorite recipes and sharing candy with her visitors. She was known to say, "Who knew dying could be so much fun?"

Joan was particularly touched by the caring volunteers at the hospice house who went out of their way to make her feel valued. "Joan told me that at the hospice house she felt a sense of community and belonging that she had rarely, if ever, felt in her life," said Care Dimensions Hospice House Social Worker Laci Gentry. "Joan wanted to tell her story to make sure people knew that hospice was not a scary word, and that being on hospice was the first time she felt accepted and cared for as a lesbian woman with a terminal illness."

"Here, everyone has someone to hold their hand when they need it — for as long as they need it and as often as they need it," said Joan. On the day she died, hospice house staff and volunteers sat vigil with Joan, making sure she knew she was never alone and was surrounded by people who loved and admired her.
Care Dimensions Hospice House Combines the Comfort of Home
with the Benefits of Hospital-Level Medical Care
Sometimes situations arise that make it difficult for adults and children receiving hospice care to be cared for at home. Opened on April 11, 2018, the
Care Dimensions Hospice House
offers an alternative to hospitalization for patients who require specialized care for acute pain and symptom management. Located on 12 wooded acres in Lincoln on the Waltham town line, the
Care Dimensions Hospice House
is a warm, homelike setting where patients receive hospital level medical care, comfort and support. Private suites overlook the Cambridge Reservoir and landscaped gardens, and comfortable common areas include welcoming kitchen and dining areas, family rooms, children's play areas, and a contemplation room. In its first year, 460 patients from 95 communities were cared for at the hospice house. To view a video tour, please visit
CareDimensions.org/CDHH
or call 888-283-1722 to arrange a tour.
While our website will give you a better understanding about hospice care and the services that Care Dimensions provides, no one can tell the true story quite like our patients, families and staff. We encourage you to take a moment and read their stories and watch our videos.
You'll be forever changed as you learn about life's difficult final journey and the amazing patients, caregivers and staff who've embarked on the experience together.
---