Featured Story
Committed to Volunteering, Making a Difference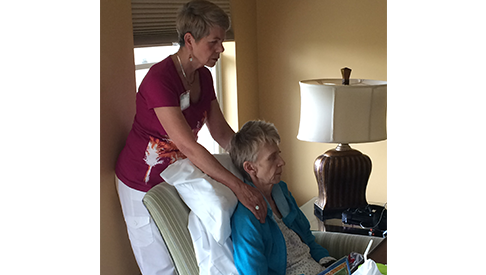 Gail Thompson of Peabody, MA, began her journey with Care Dimensions 38 years ago as one of our first volunteers. In 1980, she made a commitment to improve the lives and deaths of people with terminal illnesses and she continues to live out that commitment today.

Family experience leads to hospice volunteering

Gail sought out hospice volunteering after witnessing her father-in-law die in severe pain due to cancer. "There was no one to tell us what to expect of the dying process and I knew there had to be a better way," she recalls. That experience prompted her to join Hospice of the North Shore (Care Dimensions' former name) as one of our first volunteers. She began by visiting hospice patients once a week in their homes, but that quickly blossomed into spending several days a week visiting patients, sitting vigil or offering Reiki to patients and caregivers.
A busy mother and community volunteer, Gail learned much in those early years about helping patients and herself. "Serving as a hospice volunteer gave me the strength to make critical changes in my own life," said Gail. "I learned to be vulnerable and accept my vulnerability, while always trying to bring something positive to the situation." When Care Dimensions' Kaplan Family Hospice House opened in 2005, Gail began volunteering as a greeter, patient companion and mentor for new volunteers helping at the hospice house. But for Gail, the focus has always been about the patients – bringing them comfort and dignity. Each aspect of her volunteering has helped serve that purpose.

Impacts of her work as a hospice volunteer

"When we think of the thousands of patients and, additionally, the thousands of caregivers and visitors to the Kaplan House that Gail Thompson has helped, it is mind-boggling," said Sheryl Meehan, director of volunteer services and complementary therapies. "What makes Gail stand out as an exemplary and steadfast volunteer is her ability to recognize a need and then to fill it," she added. For example, Gail noticed that caregivers were comforted by holding small prayer squares when visiting their loved ones. An avid knitter, Gail began to create squares with crosses, stars of David or hearts, and rallied other volunteers to assist in the project. She has started and led other volunteer-supported projects, including creating small cairns or rock sculptures for visitors and sewing bibs/cover-ups for patients at the Kaplan House.
Gail has experienced some powerful moments while volunteering with patients and providing Reiki. "There was one patient who was so agitated from medicine and illness that he wouldn't sit down and couldn't fall asleep," Gail recalled. "I spoke with him, got him to sit for a few minutes, and with his permission, performed Reiki. Within about 15 minutes he was fast asleep." Gail's touch and presence have had that kind of calming and nurturing effect on so many of our patients.
"I remember one family that was concerned about their sister. She was very anxious and afraid of dying," said Gail. Shortly after Gail performed Reiki on her, the patient died. The family believes it was Gail's tender touch that helped ease their sister's mind before she passed. Gail's response speaks volumes as to the way she feels about volunteering with hospice patients. "I'm humbled that I may have had anything to do with helping the patient be at peace," she said. A fellow hospice house volunteer believes Gail's presence and experience makes a difference to all who come through the hospice house door, adding, "They see Gail's smile and hear her calm tone and are immediately put at ease."

A leader and role model

Volunteer Cindy Brooks was skeptical when Gail approached her about helping make bib cover-ups for patients. "When Gail saw my hesitation, she said, 'We can do this. Think how much it will mean to the patients and their families,'" Cindy recalled. Proud volunteers have since sewn hundreds of cover-ups for patients and table runners for special events.
Volunteers at the Kaplan Family Hospice House say that Gail's sense of humor and her kindness are evident in her interactions with patients and fellow volunteers. "Her attitude is to help you be the best you can be," said Fran Clements, volunteer coordinator. In a new role, Gail is serving as a volunteer reviewer and already putting new volunteers at ease. "I'm excited to help mentor new volunteers. I remember all the questions I had in the beginning and how important it was to have someone to share your experiences with," she said.
"Over the years, Gail's commitment to Care Dimensions has been evident in so many ways," said Sheryl Meehan. "In addition to her other volunteer roles, Gail often provides Reiki for our clinical staff who benefit from the stress-reducing therapy." A new employee once remarked: "Gail's dedication to our patients, staff and mission is incredible. She makes me want to give my best to everything I do."
Today, Care Dimensions is supported by almost 500 volunteers who serve over 90 communities. "Gail Thompson helped pave the way for so many of these newer volunteers," said Sheryl. "And she never tires in her commitment to improve the lives of our patients and their caregivers."
Gail recaps her decades of volunteering this way: "Volunteering with hospice patients has changed my life. Each of my patients has taught me to live my life with my whole heart engaged. It's been my distinct pleasure to serve so many in their time of need."
Care Dimensions offers volunteer training classes several times each year in multiple locations. See our Volunteers page for information about upcoming trainings.
While our website will give you a better understanding about hospice care and the services that Care Dimensions provides, no one can tell the true story quite like our patients, families and staff. We encourage you to take a moment and read their stories and watch our videos.
You'll be forever changed as you learn about life's difficult final journey and the amazing patients, caregivers and staff who've embarked on the experience together.
---