The Heart of Care Dimensions

Volunteers are at the heart of Care Dimensions, supporting and enhancing our services and making a real difference in the lives of our patients and their families. Our volunteers work in almost every department—visiting with patients, assisting at the
Kaplan Family Hospice House
 or the
Care Dimensions Hospice House
, working in the administration offices, making bereavement calls, taking your therapy dog to visit patients, and so much more. We offer volunteering opportunities throughout the
95 communities
in Eastern Massachusetts that we serve.
In 2018, 539 volunteers donated over 45,000 hours of service. Our volunteers are motivated by a desire to give something back, but soon find that the emotional and spiritual rewards they receive far outweigh the time and caring they contribute.
What It Takes to Be a Volunteer
Care Dimensions volunteers are special people. They're kind, sensitive to others and they're non-judgmental. They have the ability to listen, are reliable and most importantly, they truly care. Many people would like to be a volunteer, but are not sure what is expected of them, and if they have the right skill set. Because Care Dimensions is a large, multi-faceted organization, we offer varied opportunities and extensive training for volunteers – from direct interaction with patients and families to work in our accounting department. No volunteer is placed in a position that he or she is not trained to do, or is uncomfortable doing.
As a Care Dimensions volunteer, you need to:
Commit to being a volunteer approximately two hours per week over the course of one year
Attend volunteer training
Be dependable
Be patient
Know your strengths and your limitations, and when to say no
Becoming a Volunteer Today
As a Care Dimensions volunteer, you will be part of an organized and attentive volunteer program that provides extensive training, support and enrichment classes, the flexibility to contribute at all times of the day and week, and many opportunities for camaraderie and fellowship with other volunteers.
Apply online or contact our Volunteer Services department at 888-283-1722 or email VolunteerInfo@CareDimensions.org. We look forward to hearing from you and answering any questions you might have.
Therapy Dog Brings Joy to Patients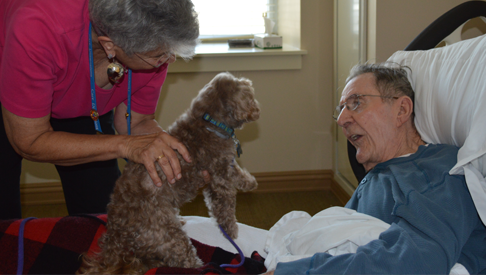 Volunteer Cynthia Turover and her pet therapy dog Louie make the day a little brighter when for patients.

Become a Pet Therapy Volunteer

---
Virtual Volunteer Trainings
Sign up for the next volunteer training via Zoom:
Tuesdays and Thursdays, 6 - 8:30 p.m., March 1 - 24, 2022 (Register by Feb. 22)
Mondays and Wednesdays, 9 - 11:30 a.m., March 7 - 30, 2022 (Register by Feb. 28)
Complete an application.
Questions? Email VolunteerInfo@CareDimensions.org

---
Did you know?
Hospice care programs are mandated by law to include five percent of patient care hours from volunteer community members. This honors hospice's origins as a volunteer movement and respects the unique kind of caring and a point of view that volunteers bring. This is one of the things that makes hospice care unique in health care.