3 Ways to Support Grieving Teens Who Use Social Media
Posted on November 14, 2018 by Samantha Alanis
Note: While this article is published in support of Children's Grief Awareness Day on November 15 (
https://www.facebook.com/ChildrensGriefAwarenessDay/
), we hope parents of grieving teens find it useful throughout the year.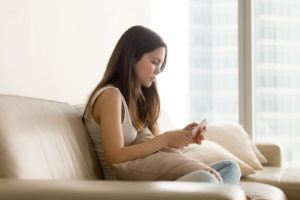 Social media has become a large part of many adolescents' lives. When someone special dies, it is not uncommon for teens to express their connection with that person over social media platforms like Instagram, Snapchat, and YouTube. Posting pictures, writing thoughtful notes, conversing with friends and family over social media can help grieving teenagers feel less isolated and more supported.
If you know a grieving teen who uses social media, here are three ways you can offer support:


Help review privacy settings. Remind your teen that on many social media platforms, their posts may be seen by people they don't know if their privacy settings are not configured correctly. While posting to social media may be an important tool for connecting with others, it may also leave room for unwanted comments or insensitivity, whether intentional or not. Many social media platforms allow for profiles and pages to be private, so talk to your teen about what they want to share and with whom. Review privacy options to help reduce potential unwanted comments and plan with your teen to prepare for this situation.


Be supportive, but cautious. Often when teens experience the death of a special person, they feel alone in their grief experience. Social media can provide a space for adolescents to connect with family and friends in relation to the death of the special person, and they may also find support from other adolescents who have also experienced loss. While it is important to be supportive, it may be beneficial to monitor who the adolescent is connecting with from near or far. Consider looking into grief-specific blogs, groups, or other platforms with your teen to encourage connection with other adolescents who are also grieving. Always do you own review of the platform first to ensure that it seems safe and remind teens of the danger of sharing personal or identifying information with strangers.


Help them remember, honor their important person. Teens with social media accounts can "connect" with their special person if the deceased also had an account. Children and adults often will post on the person's account as if they are talking to the person to keep their connection present. In a sense, the person's account can turn into a tribute. While this can be a great way for grieving teens to connect with their person on birthdays, anniversaries, milestones, etc., remember that others will be doing the same, which may feel overwhelming for the teen. To reduce that chance, prepare your teen for things they may see on social media and encourage them to take breaks from it when needed.



Posting to social media is one of the ways grieving teens may choose to remember their person. Maintaining that connection over social media can have pros and cons based on the nature of the platform and the way the teen chooses to interact on it, but it can be a great outlet for connecting, empowering, advocating, and remembering if they have proper support and oversight.
Care Dimensions provides
grief support for children, teens, and families
who are anticipating or grieving a loss, regardless of whether the loved one had hospice services. While social media offers an opportunity to connect with others, in-person connections also can be important. Learn about our specialized programming for grieving teens by calling 855-774-5100 or emailing
ChildLife@caredimensions.org
. Explore other
blog posts about children and grief
. Care Dimensions is a proud friend of the Coalition to Support Grieving Students, which offers
more tips about teens and social media
.
[ ]
Subscribe
Enter your email address to get
notified when new articles are published.
Search