A Night to Remember for Young Hospice Patient
Posted on June 24, 2019 by Wendy Killeen
When Care Dimensions hospice patient Eliza Mager and her female cousins were making plans for her 22nd birthday, she had an unusual take on the celebration.
"I mentioned I had been unable to go to my prom because of my cancer treatments and suggested we have a birthday-prom event instead."
Diagnosed with cancer at age 17, Eliza, of Westford, MA, eventually had to leave school, and missed much of what comes with those high school years. Now, it was time to recreate one of those special moments.
"Everyone agreed and my cousin, Liz, took over arranging it. Next thing we know, the male cousins said they really wanted to go, too," Eliza said. "We decided to go all out for the prom piece and get all dressed up."
Her cousins did much of the planning, and Eliza was kept in the loop. She had started hospice with Care Dimensions late last year, so Social Worker Rebecca Lawrence and Child Life Specialist Keyla Kelley also got involved.
"We worked to make sure she could do it, supported her, and coordinated a volunteer photographer so she could enjoy a great experience," Rebecca said.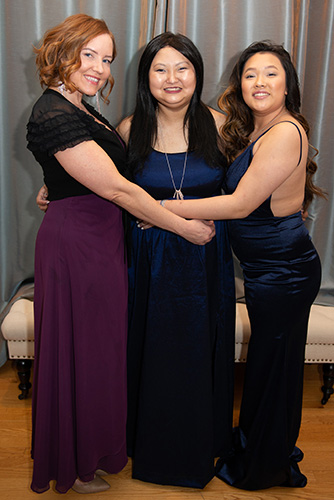 "It was really special and tailored for her," Rebecca added. "And, it was something for her to work on and look forward to."
Care Dimensions often helps seriously ill patients check items off their "bucket list," noted Rebecca. "But this was our first experience with a prom. It was a fantastic and unique event."
Eliza's sister and cousins helped her find a dress, which she said, "was really fun."
A friend applied her makeup and provided other touches to get her ready for the big night.
"We all got dressed up like it really was a prom," Eliza said. "The women and men looked wonderful. It meant a lot to me."
Cousin Liz rented a place for the weekend where everyone, including the out-of-state cousins, could stay. "That was surprising and wonderful," Eliza said. "I was excited most of my cousins were coming."
Close friends rounded out the attending group of about 20 people.
Another highlight, Eliza said, was that one of her cousins proposed to his girlfriend at the event.
After the prom, she recalled, "We went back to the house where we shared the cake . . . and just enjoyed being together. It was wonderful.
"It was also kind of bittersweet for everyone because of my illness. So there was some crying, but lots of laughter. In the end it was a really fun event, but more important it was a great and special memory that we now all have."
If you or a loved one is facing a serious illness, it's never too soon to learn about your options for comfort. See: https://www.caredimensions.org/where-do-i-start/index.cfm
Wendy Killeen is a freelance writer from West Newbury, MA.
[ ]
Subscribe
Enter your email address to get
notified when new articles are published.
Search