Community Volunteers' Knitting, Sewing Bring Comfort to Hospice Patients
Posted on April 9, 2019 by Wendy Killeen
In honor of National Volunteer Month, Care Dimensions would like to share this story of two of our community volunteers. We thank the many community volunteers over the years who have donated items and shared their talents to improve the care and comfort of our patients and families.
Every Monday, Henrietta Goodwin walks into Care Dimensions' Kaplan Family Hospice House in Danvers with a special delivery: 50 handknit "prayer squares" to be shared with patients and their families.
"I get a great welcome when I walk through the doors," said Henrietta, a community volunteer for Care Dimensions.
More importantly, she knows how touching the squares can be. "They really mean a lot to people," she said. "It warms my heart to make them."
For three years, Henrietta, 77, of Wenham, has been knitting the 5-by-6-inch prayer squares, working on them five or six hours a day, and maybe more on weekends.
The soft, pastel-colored squares -- with either a cross or a heart incorporated in the design -- are given to patients to pray with, or just hold.
Often, she said, families will place them with their loved one after they die.
They also soothe grieving families. She said one woman told her she framed the square her dying husband had, and painted her living room the same color.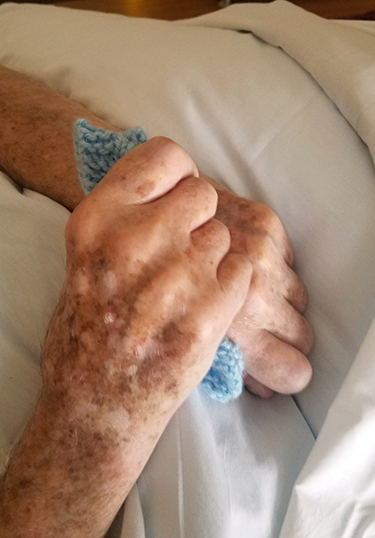 Gail Thompson, a trained Care Dimensions volunteer, said she brought one of Henrietta's squares to a patient who had recently moved to the Kaplan House, and placed it on his chest.
"Sometime during the day, he grasped it in his hand and didn't let go at all...until he died. Each square has its own story about how it gives comfort," she said.
Marilyn Brauss, 79, of Wenham, sews 18-square-inch cotton prayer quilts for patients at the Kaplan House, as a community volunteer for Care Dimensions. She makes about six a week and over the past three years has made 766.
Marilyn said she incorporates three different colorful prints in a patchwork design, with a cross in the center. She has also used red-white-and-blue materials to make quilts for veterans in hospice, and is now working on items featuring the Star of David.
"It's a comfort for patients," she said. "Like a security blanket." And, again, it's helpful for families. She was told that after one woman at the hospice house died, the quilt was given to her grandson, who slept with it under his pillow.
When both her parents were at Kaplan House, another woman shared, they found comfort with the prayer squares and quilt. "After my mom passed, the staff put her blanket and all the prayer squares on my father. I will never forget it."
The prayer quilt project was initiated in 2008 by St. Mary of the Annunciation Parish in Danvers. Since, about 3,000 quilts have been made. Over the years, several religious organizations, community groups, and clubs also have contributed handmade items for the comfort of patients.
Members of the church continue with the project, including cutting the cotton fabric into squares and putting them into "kits" that are then sewn together by Marilyn, and a few others.
"I enjoy doing them and once I start, I can't stop," Marilyn said. "I do it every day, and in the wee hours of the morning when I can't sleep. It keeps me out of mischief."
Elaine Williamson, who oversees the program at St. Mary's, said once the sewn quilts are returned to the church, she attaches a prayer to the back, and ties them with a ribbon. They are then blessed by a priest, and 35-to-40 are delivered to the Kaplan House each month.
"Even for those who aren't religious, at the end of life when they know someone is praying for them, it comforts them," Marilyn said.
Care Dimensions has more than 560 volunteers who work directly with hospice patients, according to Sheryl Meehan, director of volunteer services and complementary therapies.
There are also 20 volunteers on the board of directors and 47 who work in the office.
Then there are those like Henrietta and Marilyn, who provide items or services that support patients indirectly.
"When I retired, I wanted to volunteer but I didn't want to commit to a day and time," Marilyn said. "This works out perfectly for me. I can do it in my pajamas, and if I don't feel like doing it that day, I don't have to."
She also said it was a good option, because she didn't feel comfortable working directly with patients. "I could not sit vigil," she said.
"We have community volunteers who knit, crochet, sew, craft projects, do community events, and assist with various activities," Sheryl said. "Our volunteers are our ambassadors within the communities where they live and work."
And among them, Henrietta and Marilyn "keep these (prayer square and quilt) programs rolling," said Fran Clements, volunteer coordinator at the Kaplan House. "Both of these ladies are truly remarkable."
Care Dimensions is offering volunteer training classes starting later in April in Danvers, Burlington, and Lincoln. See our Volunteers page for information about the trainings. Click the Keep Me Informed button and sign up for notices about volunteer training in your area.


Wendy Killeen is a freelance writer from West Newbury, MA.
[ ]
Subscribe
Enter your email address to get
notified when new articles are published.
Search