Different Type of Bereavement Visit Leads to Discovery
Posted on April 15, 2020 by Rev. Beth Loughhead, M.Div.
Tracey and I had been trying to find a time to get together. Tracey was the health care proxy and deeply devoted friend of a hospice patient on service with Care Dimensions, a patient for whom I served as chaplain.
Following the patient's memorial service at the end of February, Tracey and I had worked at scheduling a bereavement visit; matching our schedules was challenging. And then social distancing due to the COVID-19 pandemic became a reality. Now, how would we be able to spend some time together?
Fortunately, Tracey and I live in the same neighborhood, and so we decided to visit while walking, six feet apart. Soon after we began our walk, we noticed something. Many of the doors of the homes we walked past were decorated. We stopped and spoke to a mother and daughter who were putting the finishing touches on their masterpiece and learned that it was a neighborhood project. Parents and children were encouraged to decorate their doors, using primarily recycled materials. The purpose of the project was to create a sense of community in the midst of a time of isolation and perhaps to add some color, hope and joy to passersby. Tracey and I were both touched and encouraged by those doors.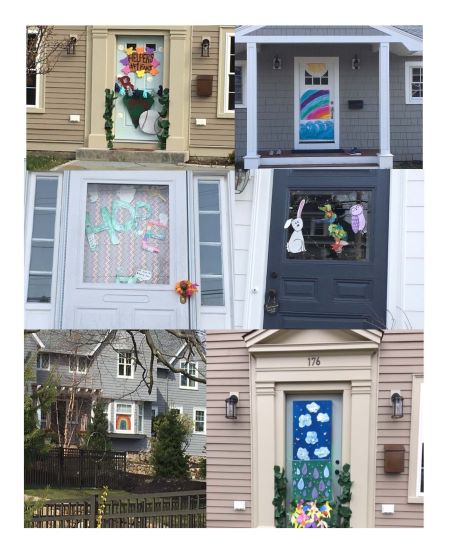 Over the next few weeks, I took pictures of some of those doors. I put six of them together in a collage. I hope they add a bit of color, hope and joy to your day. And if you have some recycled materials at home and a bit of an artistic flair, I'm sure people in your neighborhood would enjoy a decorated door!
Learn about Care Dimensions' grief support programs.
About the author
Rev. Beth Loughhead, M.Div., is a chaplain with Care Dimensions. Previously, she served for five years on the national staff for the American Baptist Churches, USA, and served as a minister at the First Baptist Church in Beverly, MA, for 29.5 years.
[ ]
Subscribe
Enter your email address to get
notified when new articles are published.
Search