Join Pet Therapy Dog Patrick at Walk for Hospice
Posted on August 2, 2018 by Care Dimensions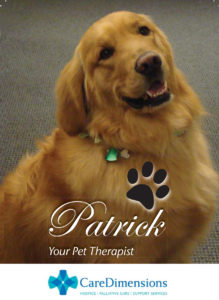 By way of introduction, my name is Patrick! I am proud to say I was the first Therapy Dog for Care Dimensions. My work began seven years ago when I arrived from Arizona where I was initially trained to be a Service Dog. Fortunately for me, my handlers realized that I enjoyed being touched and hugged a great deal and that I would be a perfect match for becoming Care Dimensions' first Therapy Dog.
When I first arrived, I visited with patients and their families at the
Kaplan Family Hospice House
in Danvers. I got lots of hugs and petting from everyone. Eventually I started visiting hospice patients in assisted living and nursing home facilities. Everyone liked seeing me, especially the people who were lonely or sad. Many patients told me stories about their beloved pets, recounting their childhood or happier times. There were even patients who didn't talk to humans but who opened up to me or sung me a song.
I learned quickly that people loved to show me that they liked my visits by giving me all kinds of yummy treats! Oh my…I would get treats such as cookies, cheese, pieces of sandwiches, dog bones, and even a lick of ice cream now and then! To tell you I loved every crunch and lick is putting it lightly. But, lightly soon became heavy…I began to put on the old pounds. My ability to walk, run, jump, and get up was really hard. About two years ago, a checkup with my doctor gave me a "new beginning" in many ways! A diet ensued and I enrolled in "Doggie Boot Camp!" After a brief hiatus, I returned to my hospice work happier and healthier. My handlers have learned to keep a close eye on the treats I receive.
After returning to work, I met a new friend and handler, hospice volunteer Elisa LaSota. She really took a liking to me, and well, I really liked her, too! Together we've met some very interesting people as we roam around the Kaplan House. She always lets me take the lead and be the greeter as we visit patient rooms. She has me do some special tricks on some of the visits and there are times that I even have the opportunity to let someone rub my belly or massage my paws! Treats? Who needs them when now I know that all the petting and hugging are the best treats in the whole wide world!
I often hear people ask our hospice staff what they can do to help others living with a serious illness. If I could speak, I would encourage them to support the many services that Care Dimensions offers, including
complementary therapies
and pet therapy. These wonderful services are not covered by insurance and are in high demand with our patients because they reduce stress and aid in relaxation. This year, I've formed a way for people to support Care Dimensions with my very own Patrick's Pals Walk Team. I'll be at the
Walk for Hospice
and hope you'll join me.
There is so much more that I could tell you about the great life I have meeting people and helping them feel happy and comforted. I will be semi-retiring from my work as a Therapy Dog soon, but this time, I am not leaving because I am out of shape! No, not at all! My Mom and I are starting a new chapter in our lives together and we will be retiring! How lucky can I be? I've done all that I could possibly do to help people, made so many friends, lost weight and got in shape, been loved to the moon and back…and, now will relax and continue to be healthy and loved with my family!
Wags and licks,
Patrick
Register for or donate to the Walk for Hospice
[ ]
Subscribe
Enter your email address to get
notified when new articles are published.
Search