Music Therapy with Nonverbal Patients: 'No Words Necessary'
Posted on March 21, 2016 by Katie Bagley, MT-BC, NMT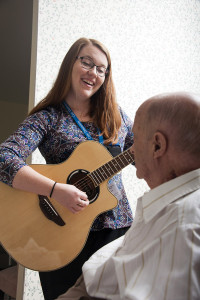 In my time with Care Dimensions as the music therapist based out of the Wellesley office, I have worked with a variety of patients experiencing varying needs at end of life. Patients who are nonverbal – whether incurred by traumatic injury or course-of-disease process – often face additional challenges in hospice care. With patients unable to verbally express levels of comfort, preference, or emotion, providing person-centered end-of-life care can carry increased difficulty.
Music therapy can offer a mode of communication and connection apart from words. For patients who retain cognitive processing skills and may demonstrate progressive, slow declining speech, I have facilitated songwriting with visual prompts, in which patients point to their desired word or theme choice. Engaging patients in creation of a unique song encourages emotional and creative self-expression and facilitates their ability to make choices. Patients are able to use this process as a safe, non-threatening, and less frustrating means of communication that may foster connection with loved ones and create a tangible/audio legacy to gift or leave behind.
You may have seen popular videos online depicting the power of music for individuals with dementia. Music indeed offers sensory stimulation that elicits responses, due to the predictability and familiarity of preferred music. As the stages of dementia progress, patients lose the ability of having contextual speech, or any speech at all. The memories of people with dementia regress in stages, as if peeling an onion. While the outer-most layers, or short-term memories, leave first, the oldest core memories remain longest. In using the music patients enjoy from their teen years and early adulthood, it is possible and typical to stimulate a response. Scientific research highlights the innate nature of music in our lives, and neurologic pathways forged when making music. This shines light on the commonly seen dementia patient singing all the words to an old familiar song when unable to speak a single word outside of music.
I currently work with a patient diagnosed with a neurodegenerative disease resembling Parkinson's. I provide music experiences to encourage awareness of surroundings, relaxation, and connection with his devoted wife. To encourage regulated breathing and full body relaxation, I use a large drum with deep vibrations, steadily played up and down the body. This couple spent years traveling to see orchestra performances and Broadway shows together, and developed a deep love and connection to music. In using this patient's preferred music performed live in the moment, we have witnessed a marked increase in alertness and awareness. Often during visits, this patient demonstrates a physical shift, opening eyes to look upward and toward the source of sound, smiling, while reaching to hold his wife's hand tightly. She notes the predictability and frequency of these behaviors to be contained to music therapy visits. Seeing her husband respond in such an observable way has been substantially comforting, and she reports feeling more connected to him. "He's really still here with us," she says. For loved ones, fostering this sense of connection aims to address pre-bereavement, which alleviates caregiver burn-out while encouraging self-expression and life review. Music therapy visits have created a time for this husband and wife to share in loving, emotional interaction, with no words necessary.
Learn more about Care Dimensions' complementary therapies.
[ ]
Subscribe
Enter your email address to get
notified when new articles are published.
Search