Rainbow Promise
Posted on July 23, 2020 by Robert Hagopian, M.Div.
During my Sunday on-call shift as a Care Dimensions hospice chaplain, I visited with one of our actively dying patients and his family in Newburyport. The love the patient and spouse shared, having been married for 60 years and bringing two sons and in turn three grandsons into this world, was amazing! Our patient's wife was very moved by my prayer with the family. After her husband died early Monday, she requested a bereavement visit from me, which I obliged.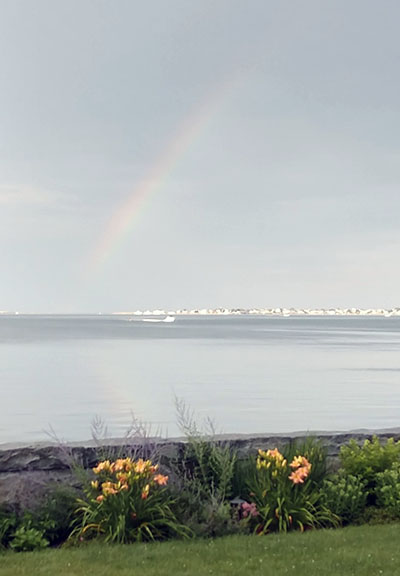 The weather was stormy. As I ministered to the family, our attention was called to the window, and in looking out, we saw a beautiful rainbow. I interpreted the rainbow as an assurance from their beloved father, husband and grandfather that he was safe, healthy again and at home in Heaven --- and that they were going to get through their grief. I suggested to the family that through the rainbow, their loved one was promising his family that he would always be with them. It is a promise that I know he will keep.
Keeping our promise to patients and families
At Care Dimensions, we promise every day to do everything in our power to bring our patients and families a measure of comfort, strength and peace. It isn't easy with the demands on our time, but we strive every day to fulfill our mission. That is love, my Sisters and Brothers! That is the love that shines as colorful as a rainbow after a storm. A love that will endure and will always come through!
Thank you to all my fellow Care Dimensions staff members for sharing your love with our patients and families --- and with each other.
Robert Hagopian, M.Div., is a chaplain with Care Dimensions, and originally wrote this as part of a daily spiritual reflection shared with all employees. A chaplain is one part of a comprehensive team available to each Care Dimensions hospice patient. Learn more at: https://www.caredimensions.org/hospice-care/index.cfm.
[ ]
Subscribe
Enter your email address to get
notified when new articles are published.
Search