Yoga for Living with Loss: One Man's Life-Changing Bereavement Support
Posted on January 29, 2020 by Áine Greaney Ellrott
One winter morning in 2015, Britt Hall, a software engineer, left his family home in Essex for his morning commute to work. Before he left, he exchanged his usual goodbyes with his wife Peggy. Later, when he returned home, he found Peggy lying on the living room floor in what he suspected was a cardiac arrest. He called 911, the local emergency team arrived, and Peggy died before the ambulance reached the hospital.
"We had been together for 42 years," says Britt. "Peggy had a luminous quality to her, and for all those years, we were true soul mates. For those months after her death, I was really at a low point in my life. I wasn't aware of where to turn for bereavement assistance."
Finding grief support on the North Shore
Eight months later, Britt's daughter Jane heard about a Care Dimensions grief support group in Danvers, which offers support to members of the community, even if their loved one was not a hospice patient.
She shared this resource with her dad, and Britt signed up for an introductory group session, and found that group so helpful that he enrolled in a longer, multi-week session led by an experienced bereavement specialist. In the group, he began to bond and share his feelings of loss with other participants who were also struggling with the death of someone they loved. Then, a Care Dimensions grief counselor asked if Britt would be interested in a newly-launched yoga group that was specially designed for those who had been bereaved.
"I joined that first 'Yoga for Living with Loss' group," says Britt. "And I've been attending ever since."
Specialized yoga classes for coping with bereavement and loss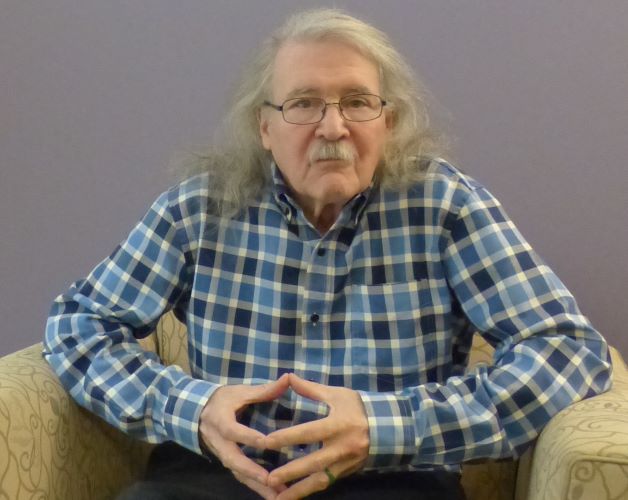 Since 2016, Britt Hall (left) has been participating in "Yoga for Living with Loss," a specially designed bereavement support class in Danvers.
"The Bereavement Team is thrilled to be able to offer this yoga group for our clients," says April Evans, Care Dimensions' Manager of Bereavement Services. "Talking about grief is a great way for many people to process their grief, but physical catharsis is also so important, and for some people the only way to express their grief and to learn how to manage the hurting heart."
Led by certified yoga instructor Nancy Sheena Sarles, and designed for both beginner and experienced yoga participants, "Yoga for Living with Loss" is a drop-in, 60-minute yoga class that supports the body, mind and spirit.
"I designed this class to provide a safe haven for gentle movement, authentic feelings, and a compassionate heart as we live with our deep losses," says Nancy, who draws upon her personal experiences with grief and loss.
She adds: "Grief happens as much in our bodies as in our hearts and minds, and yoga provides a sacred practice for our bodies to physically grieve, release tension, and live with our broken hearts, both physically and emotionally."
Since he joined that first yoga group four years ago, Britt has remained a regular participant, where, in addition to the yoga poses, he benefits from each session's meditations, readings and music.
"It's all kind of magical and this group is important spiritually and physically to me," he says. "I can honestly say that participating in this practice has changed my life."
The Care Dimensions "Yoga for Living with Loss" classes are available to anyone in the community on a drop-in basis. The 2020 winter sessions in Danvers begin on February 4th. Each class has a $10 fee. For more information, call Care Dimensions at 855-774-5100 or email Grief@CareDimensions.org.
About the author: Áine Greaney Ellrott is a communications specialist at Care Dimensions.
[ ]
Subscribe
Enter your email address to get
notified when new articles are published.
Search