News Releases
September 14, 2020

One Woman's Journey to Hospice and Caring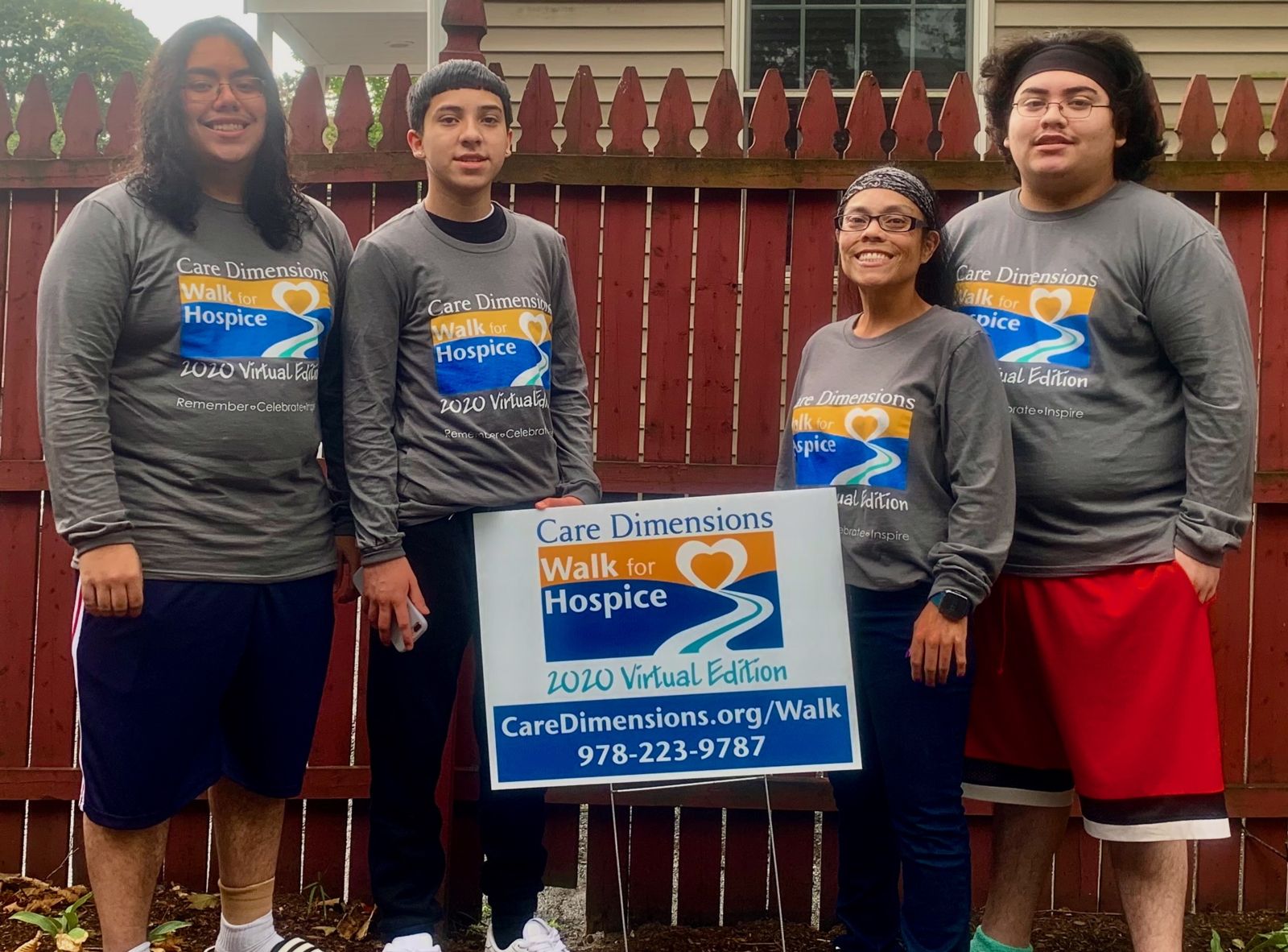 Elena Connelly's goals are simple. She wants to do the best she can do for every patient she supports. This senior hospice aide has worked at Care Dimensions since 2005 and she has been a certified nursing assistant since 1992. The Salem resident clearly is doing what she loves.
Her dedication to her job earned her a 2020 Compassionate Service Award, one of only 10 awards presented by the Hamel-Lydon Chapel & Cremation Service of Massachusetts in Quincy.
"For me, my job is the best thing in the whole world because I get to care for people, give them comfort and hold their hand at the end of their lives, which has been my lifelong mission," Elena wrote in her application.
Elena's as straightforward about her care-giving mission as she is when she talks about her early childhood, when she experienced the sounds and horrors of war in El Salvador. She witnessed the execution of her parents and saw children and adults being shot and bombed, ending in death.
"Obviously, that had a huge impact on me and because of that I want to help and bring comfort to people who are dying," she says. "I saw the army invading and the shooting. I saw the killing of my family and could not be near them while they lay dying."
She was shuttled into an orphanage, where she was physically and emotionally abused for four years. Then, as an 8-year-old she was adopted by an American family. It took time for Connelly to adjust to her new life — everything in the U.S. was so new. She still has a hard time socializing and traumatically experiences fear while asleep.
"Once I learned everything was OK, I realized I wanted to help the older generation and hold their hand," she says.
Her path has led her to Care Dimensions, working in palliative and hospice care, where she says, "My life's wish has come true."
"My goal as a child was to help others, so now I do," she says.
Her mission was further reinforced by the care she saw her mother receive from a Care Dimensions nurse in the early 2000s.
"The way I saw the hospice nurse support my mother, I was in awe and decided that's what I wanted to do," she says. "The nurse showed she cared about my mother and the job she was doing. That set me into motion. I knew right then; this was the job for me.
"I am taking my time with my patients, too," she says. "I use every bit of time to let my patients know I really care about them personally."
A typical day for Elena starts at 5 a.m. with her Alzheimer's and dementia patients, who typically are awake at that time and have trouble sleeping.
"They're up at that time, so I am, too," she says. "I spend an hour with each patient. I work mostly at one place, so I can do a little extra time with each one of my patients, such as stop back in to paint their nails or dance with them or for them. If I get even one smile, I have hit my goal.
"I am there for my patient; it's always all about my patient. Every patient is different, so my job is to figure out how to make it better for them."
The families of the patients she cares for appreciate how she puts her heart and soul into caring for her patients and how she helps them care for their loved ones.
Donna Eidson of Arlington wrote to Care Dimensions in August, thanking more than half a dozen individual staff members for the professional and compassionate care shown to her mother, Mary "Molly" Furlong, for almost two years. Donna wrote fondly of the "inimitable Elena."
"How can I possibly convey what she came to mean to my mother and to our family?" she writes. "Elena became a high point in my mother's day. They would laugh and sing together, and throughout the day Mom would repeat all the funny things Elena had said to her. Elena and Mom entered a deeply intimate relationship that I think benefited them both. How someone could bring such joy into one hour of personal care each day is beyond wonderful."
As accepting compliments did not come easily to her, Elena would quickly change the subject whenever Molly would thank her.
"She would tell me how lucky she was to have me in her life, and that every little thing I did made her want to fight and live another day," Elena says. "I told her that there are so many people at Care Dimensions just like me, but she said, 'There's just one Elena. She is my angel and has made all the difference in my life.' Coming from a 92-year-old woman who had seen so much in her life, I finally believed someone's compliments.
"Molly made an impact on me that day when she said those words to me. She made me promise that when someone gave me a compliment, I needed to believe in it and say, 'Thank you.' Molly, thank you for making me believe in myself and appreciate the impact I can have on someone. I love you and miss you dearly."
Hospice aide Elena Connelly has found her place in the world and she's proud to tell her Care Dimensions story.
"Care Dimensions is a family," she says. "When I see someone new coming on staff, I say, 'Welcome to my family.'"
Pictured: Elena with sons Jonathan, Paul and Jeffrey.
About Care Dimensions
Care Dimensions is the largest hospice and palliative care provider to adults and children in Massachusetts. As a nonprofit, community-based leader in advanced illness care, Care Dimensions provides comprehensive hospice, palliative care, grief support in more than 95 communities in Eastern Massachusetts. Founded in 1978 as Hospice of the North Shore, Care Dimensions cares for patients wherever they live – in their homes, in skilled nursing facilities and assisted living communities, in hospitals, or at our two inpatient hospice facilities, the Care Dimensions Hospice House in Lincoln and the Kaplan Family Hospice House in Danvers. Additionally, Care Dimensions' HomeMD program provides in-home primary care to patients over age 65 in select communities on the North Shore and Greater Boston who have difficulty leaving home. The Care Dimensions Learning Institute educates more than 7,000 health care professionals and community members each year on advanced illness and end-of-life topics. Please visit www.CareDimensions.org to learn more.

Care Dimensions Hospice House Video Tour
The Care Dimensions Hospice House, located in Lincoln on the Waltham town line, is a gracious and private home-like setting for patients who need hospital-level care for complex pain and symptom management. To learn more, call our Referral Center at 888-287-1255.