Featured Story
Till Death Do Us Part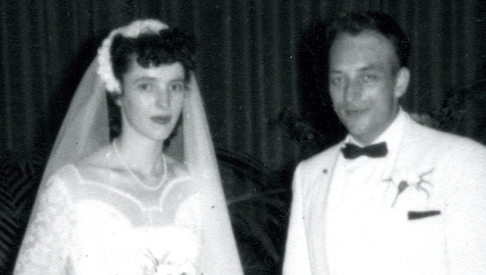 Imagine that you're 20 years old and walking along Singing Beach in Manchester. The warm sand sinks under each step that you take towards the mysterious man standing just yards away. The fresh ocean air whips around you, invigorating and calming to the nerves. Blind dates are typically full of nervous interactions and rarely lead to something special that lasts a lifetime. But this was an exception for Mary and Alphonse Gokas. They had no idea that they would be meeting the person that they would spend the rest of their life with.
Years would pass and Alphonse and Mary would come to grow closer, their family expanding with the five beautiful children that they loved deeply. Alphonse would work 2-3 jobs to support the family while Mary stayed at home with the children, baking and welcoming any other neighborhood kids into her home for something sweet to nibble on. Though large and extravagant vacations were out of the question for the family of modest means, every year Alphonse and Mary would take their children up to camp at Lake Wentworth in New Hampshire to spend time and bond as a family.
However while this world gives life, it is also quick at taking it away. After two lengthy battles for their health, both Mary and Alphonse were cared for by Care Dimensions, where the entire family found comfort in the accommodations at the Kaplan Family Hospice House.
Diane and Lorraine, two of Mary and Alphonse's daughters spoke of their experience while visiting their parents in the Kaplan House. "After being in the hospital for so long, with the chaos and the beeping of machines, I saw my parents visibly relax upon arriving at their rooms," Diane said. Lorraine stated that they "couldn't have done this without the help of Care Dimensions," and that they only wished they had gotten their parents to the house sooner.
Though the couple was initially separated upon entering the Kaplan House, when their time upon this planet seemed to be drawing to a close, Doctor Nancy Otivic made the decision to move Mary into Alphonse's room so that the two could hold hands one last time. As an additional comfort to the family, Patrick, Care Dimensions' therapy dog, came to visit and offer a little love to Mary and Alphonse's children and grandchildren.
Mary Gokas passed away on March 6th, with Alphonse following her shortly after on the 8th. Both passed away in the comfort of the Kaplan House and with the love of their family surrounding them. The children expressed their gratitude to the staff that allowed their parents to spend their last remaining moments together, as they had previously spent through their long and beautiful marriage.
While our website will give you a better understanding about hospice care and the services that Care Dimensions provides, no one can tell the true story quite like our patients, families and staff. We encourage you to take a moment and read their stories and watch our videos.
You'll be forever changed as you learn about life's difficult final journey and the amazing patients, caregivers and staff who've embarked on the experience together.
---