Living With Grief: Learning How to Survive After Loss
Posted on October 29, 2018 by Frank Comparato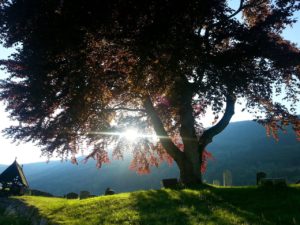 Life was good.
My wife, MaryAnn, and I had a great family with two awesome children. We also had many friends, held good jobs, and looked ahead to planning for our future.
But tragedy hit our family hard when MaryAnn died suddenly in an accident while on a business trip in 2014. She was just 47. Telling my children – who were 14 and 12 at the time – the news of their mother's passing was the hardest thing I have ever had to do. No other challenge in life even comes close. The three of us were forced down a road that changed everything in our lives.
Day by day, the word "change" took on significance. Change that affected our family dynamic around the house and during simple things like dinner-time conversations. Change that saw friends go and the friends who stayed. Change that affected how people interacted with my children and me. Change of priorities, our new perspective of life going forward, our sense of security. We were handed a completely new life without any kind of user manual.
Facing a new reality while grieving
Fairly soon after this new life became a reality, I realized that survival is all about taking steps in the right direction. Very small baby steps. Sometimes it's one step forward and two steps backwards or sideways, but it's all about just taking that next step forward.
For example, I wasn't able to look past the next day of what had to be done for the survival of my family. I was only able to look at what had to be done that next day and no further. But I also began to realize that these small accomplishments started to build self-confidence. Confidence that told me, "I think I can handle a little more." I began to look at more than just one day at a time, maybe even plan something for the weekend ahead.
For this survival, I learned how to dig deep and find that inner strength because life doesn't wait for us to heal. Whether it's a small task or a large challenge, we take it on because we really don't have a choice, which builds our confidence to face this new life. It rebuilds our self-esteem. It proves just how strong we are. Little by little, this new identify emerges and we slowly become proud of who we are and what we're able to accomplish.
Confidence gives us hope. Hope that we just might be OK at some point. Yes, there's a lot of work and many challenges ahead, but each little win gives us the confidence and hope to take the next step. I look at HOPE this way – Healing, Optimism, Patience, Evolve.
Once this feeling of hope begins to take shape, something else unexpectedly happens: peace of mind. Ever so small, we grab it. We allow our mind to settle just a little and realize that we're doing the best we can on this new journey.
Maybe confidence and peace of mind will help us look further out than just a few days. Maybe we start looking ahead at larger chunks of time and maybe taking on more challenges.
We start adapting to our new identity, our new life. I'm not saying the battle is over and here's the new me. But a little at a time, we take on these changes that give us more clarity of this new life.
Grief support
In a widow/widowers
support group at Care Dimensions
a few years ago, I learned that grief and happiness can coexist. Grief isn't linear where it ends one day and then happiness begins. Once I understood this, life after loss began to shift a little. The feeling that I might be stuck between my past life and this new life (some call it the Waiting Room) began to diminish. To find happiness again while I manage the grief in my life was a significant step.
After attending the support group for over a year, I met many people in the group who were just starting their new life without their partner. I discovered that I had something to offer – all I had learned during the previous year could be shared and maybe help others. It felt good because I have walked the same path they're taking.
Like many others, I have both good days and tough days. Tough days where things fall apart due to grief. Some challenges seem insurmountable. Things fall apart and then come back together. And this repeats every now and then. I have learned that healing comes from letting there be room for this to happen. Room for grief, room for crying, room for just letting grief take its course. And then I get back up and take the next step.
In reading about grief and how to survive after loss, I have come across a few quotes that have strong meaning and purpose. For me, this one helps:
"We all have two lives to live. The second one starts when we realize we only have one."
I know that grief isn't something that we can rush along, but at some point, we do get the urge to be happy again and to live life with a new perspective.
For my son's college application essay, he used the following quote that is significant for survival after tragedy: "While we can't direct the wind, we can adjust the sails." It's all about taking on adversity and digging deep to get back on our feet.
Life is good again.
Care Dimensions offers a wide variety of grief support groups and workshops. View
our Bereavement Calendar
.
[ ]