Lola, Dog Volunteer, Ever on Duty – a Remembrance
Posted on August 25, 2021 by Robin Ellington
Lola and Kathy were soulmates. Lola, a chocolate Labrador retriever, and Kathy, a former physical therapist, were together for more than nine years and were Care Dimensions volunteers, visiting patients at Kaplan Family Hospice House, private homes, nursing homes, assisted living facilities and senior housing. After an almost year-long battle with cancer, Lola died on July 27, 2021.She will be missed by all who met her. "I hope everyone will enjoy Lola's story, which I think will help me with my own grief," Kathy said. "I have a sense that Lola has been around before. The way I deal with this now is thinking that her next mission needs her."
Trained From the Start
Kathy picked her dog from the litter to become a therapy dog for patients. Lola was stellar at her job. Then, when Kathy became ill in 2014, she trained Lola to become her own service dog. Kathy said simply, "I share Lola."
Before her illness, Kathy worked for 21 years as a physical therapist, 15 of them as a contractor in homecare for the Salem Visiting Nurse Association. After she retired, Kathy wanted to use her background of working with patients in a new way and she knew Lola was up for the challenge of bringing comfort to patients and families.
Lola had eight years of training. She adapted to service dog training quickly and completed every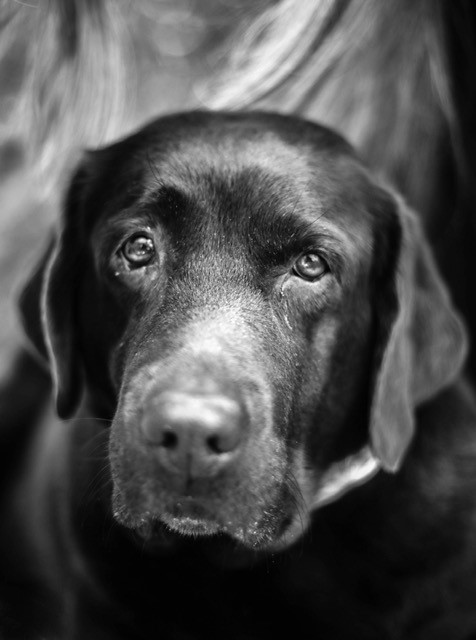 task asked of her on command. She took clothes out of the dryer and picked up what Kathy pointed to on the floor. Kathy trained Lola to get her phone -- she left it out so her dog could find it. Kathy took video of Lola picking up a dime from the floor and delivering it to her hand.
Lola, accomplished dog that she was, had her own Care Dimensions business cards and has a video on TikTok, with more than 163,000 views.
Volunteering with Care Dimensions
"Lola and Kathy were always ready," said Lorinda Marshall, Care Dimensions senior volunteer coordinator for the North Shore. "And they made sure the patients they visited were ready, too. Before working with each patient and their family, Kathy and Lola demonstrated obedience to make their families feel comfortable. Though most volunteer therapy dogs only visit patients for a few hours a week, some teams like Kathy and Lola can see as many as seven patients a day, once a week, and the time they spend with each patient varies. Kathy always knew how much time each patient needed by watching Lola's interaction with the patient."
Kathy shared a few poignant stories that illustrate Lola's important work with patients. "They are all Lola's patients," Kathy said. "I'm just the driver."
A special patient at Kaplan Family Hospice House
Lorinda called us and asked us to visit a patient who suffered a stroke and had lung cancer. Quickly she became one of our favorite patients. She could move and walk but could only say "yes" or "no." Miraculously, she would speak to Lola: "You are so beautiful – I love you" and "Do you want chips?" She would be so content, patting Lola, whispering to her. I taught her some hand-signal commands and she rolled with laughter when she watched Lola do as she was asked.
Lop – not lap – dog
Lola visited a man with brain cancer who appeared unaware of his surroundings, but he lit up at the sight of Lola. He never took his eyes off her after we came in. I taught Lola how to gently climb up to him in his geriatric chair. He took her leash and wrapped it around his hand and then wrapped both arms around her neck. On one of his last days, Lola climbed into bed with him, rested her head on his chest and then lay across his lap. I had never seen Lola do this with a patient. His daughter told me he had owned a giant lop rabbit he would drape across his lap in the evening and read the newspaper. Lola had already known.
Always ready
On my way inside the Kaplan Family Hospice House to meet Kathy and, Lola, I see a tearful man bent over in agony in reception, crying, "This is the hardest day of my life." I rush to Kathy in the conference room and, after I describe the scenario to her, she and Lola immediately go to him. When he sees Lola, he bends down on one knee, hugging and talking to her, stroking the dog's head. "Why are you here -- why are you talking to me?" he asks, looking up at Kathy. "Because you needed us," Kathy replies simply. "Lola is on duty at all times," Kathy would tell me later.
"We were so lucky to have had Kathy and Lola as volunteers," Marshall said. "Since they joined us in October of 2019, they touched many patients' lives. Our volunteers are special and so are our therapy dogs. They're kind, sensitive to others and nonjudgmental. They listen, they're reliable and, most importantly, they truly care. Visits with therapy dogs increase relaxation and trigger happy memories for both the patient and family members. Particularly as COVID precautions continue to lessen, they can help restart emotional healing for our patients and families."
Care Dimensions is seeking volunteers with dogs who are certified in pet therapy or have passed the AKC Canine Good Citizen test to join our Complementary Therapies program. If you are interested in learning more or know someone with a certified therapy dog, please contact Fran Clements (North Shore) at FClements@CareDimensions.org or 978-750-9349 or Jane Corrigan (Greater Boston) at JCorrigan@CareDimensions.org or 781-373-6574.
Learn more about our Volunteer Program and upcoming volunteer trainings.
About the author
Robin Ellington is a Communications Specialist for Care Dimensions.
[ ]
Subscribe
Enter your email address to get
notified when new articles are published.
Search