Pandemic Can't Stop Healing Efforts of Rowley Women
Posted on May 15, 2020 by Lisa Conti
What happens when two people who heal others for a living can no longer perform their services due to the COVID-19 pandemic?
If you're Gail Byrnes and Anne Boedecker of Rowley, you get to work at your sewing machine and make masks for people who need them.
Gail, an acupuncturist who owns Harmonia Healing Arts, and Anne, a psychotherapist who owns Art Heals the Soul, both use healing methods that focus on balancing body and mind. When the pandemic forced them to temporarily close their businesses in March, they tapped into their love of sewing and kept their emphasis on helping others.
"We started making masks for family and friends at our home on March 22nd," said Gail, who retrieved her sewing machine from storage. Anne, who is an avid quilter, already had a sewing room set up with a machine and a large stash of fabric. "We had everything we needed to get going," she said. They did not charge anyone for the masks.
They soon expanded their mask production for friends who work in health care. They sent several dozen masks to Joanne McInnis, president of Aberdeen Home Care in Danvers. Then one of Gail's closest friends, Trish Cannon, reached out to her.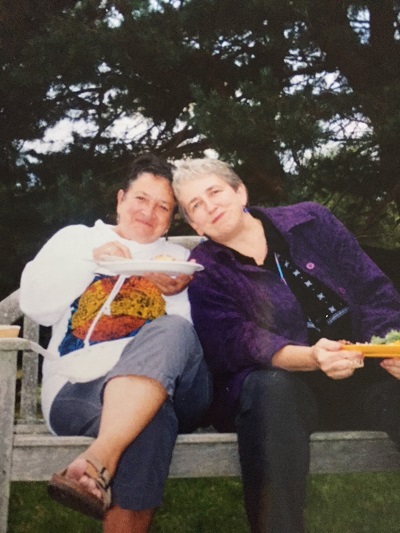 "I received an email about needing masks for people who visit patients at the Kaplan Family Hospice House," recalled Trish, who has been a Care Dimensions volunteer for six years and whose parents both had hospice care at home. "The staff who helped my parents were angels. Gail was very much a part of my life when my parents died, so she knows how important Care Dimensions is to me. We talked about whether she and Anne could make masks and donate them to Care Dimensions, and of course they did."
To date, Gail and Anne have donated over 400 masks to Care Dimensions, and more than 900 to other groups and individuals on the North Shore.

Friends Trish Cannon and Gail Byrnes
"On a typical day, we have breakfast, sew until we eat lunch, then sew until dinner," said Gail. "It feels good to be offering something that people need."
"It gives me a chance to find some meaning and purpose in what's going on," added Anne.
Three weeks after they started making masks, their fabric stash was nearly depleted and they quickly discovered that replenishing it would not be easy.
"The fabric stores are closed, and we have to buy fabric online, which can be an adventure," Anne noted. "Finding supplies is challenging; elastic is especially hard to come by."
The requests keep coming, so now Gail and Anne request a $10 donation per mask, and half of the proceeds go to Care Dimensions. (They still do not charge health care workers, and they now are making scrub caps for Care Dimensions and Aberdeen Home Care.) They've made masks with many different patterns, including stars, flowers, and logos of the Boston Celtics, Boston Red Sox, and New England Patriots.
"I'm incredibly happy that my dearest friend is making it possible for families to visit their loved ones at the Kaplan Family Hospice House," said Trish. "I am not at all surprised that Gail and Anne would be willing to do something like this. It's who they are. I am really proud of them."
Gail and Anne estimate they've have raised $900 for Care Dimensions and are continuing to take orders for masks. Email Gail at: gailbyrnes@gmail.com.
About the author
Lisa Conti is Senior Marketing Communications Specialist for Care Dimensions and manages its Voices of Care blog.
[ ]
Subscribe
Enter your email address to get
notified when new articles are published.
Search