Volunteers Continue to Help Hospice House Visitors During Pandemic
Posted on April 23, 2020 by Lisa Conti
The COVID-19 pandemic has temporarily halted in-person volunteer visits with hospice patients, but 22 volunteers are continuing to fill the important role of greeter at Care Dimensions' two inpatient hospice facilities: the Kaplan Family Hospice House (KFHH) in Danvers, and the Care Dimensions Hospice House (CDHH) in Lincoln.
Volunteers greet visitors from 8 a.m. to 8 p.m., every day. They greet visitors at the front desk, inform them of our COVID-19 visitation policy (limits number of visitors a patient may have per day and at any given time), and direct them to a screener who offers a mask to those without their own, asks questions and takes their temperature before they can be signed in.
In recognition of National Volunteer Month, we asked two volunteers from each hospice house to share why they volunteer with Care Dimensions. (See end of article for list of additional volunteers who are serving at our hospice houses.)
Nancy Fuller of Ipswich (KFHH)
Nancy became a Care Dimensions volunteer in April 2019. She is a retired special education teacher. She is well familiar with hospice – both her mother and her husband had hospice care. More recently, a friend had hospice at home with Care Dimensions. Nancy had been helping her friend with various tasks and spending time with her, and observed some visits from the Care Dimensions nurse and aide. It helped inspire her to become a Care Dimensions volunteer.
Before the pandemic, Nancy was visiting three hospice patients in assisted living facilities. "I've always been a fan of the concept of hospice," Nancy says. Now she volunteers as a greeter at the Kaplan Family Hospice House three times a week for four hours per shift.
"It's important that family members are able to see their loved one at the hospice house," says Nancy. "And it seems more important now because there are a lot of restrictions in assisted living facilities and nursing homes."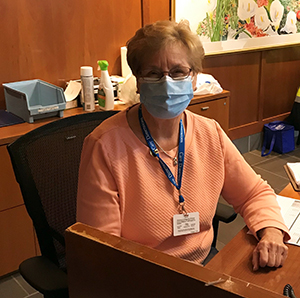 Barbara Batchelder of Peabody (KFHH)
Barbara joined Care Dimensions as a volunteer in the fall of 2019. She is a retired nurse.
"After experiencing Kaplan House 10 years ago with the passing of my brother-in-law, I always said that when I retired I wanted to give back," recalls Barbara. "To see that all staff showed such kindness and compassion to Larry and my sister – including their whole family - -was unbelievable and helped my family with acceptance."
Barbara had been seeing a Care Dimensions hospice patient a Brooksby Village in Danvers, and now greets visitors at the Kaplan House.
"I love being a small part of such a caring community and able to give back in any way that I can," Barbara says.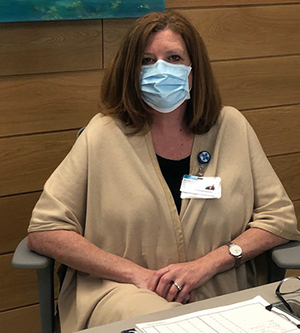 Sheila Curran of Westford (CDHH)
Sheila has been a Care Dimensions volunteer for three years. Prior to the COVID-19 outbreak, she visited patients in their homes (she still does grocery shopping for one of them). She also has sat vigil with patients whose family were not able to be with them. A Eucharistic minister, Sheila brings communion to patients and their families on a rotating basis with two other volunteers on Sundays.
Currently, Sheila volunteers at the Care Dimensions Hospice House reception desk two days a week for four hours each day. "I am motivated to keep volunteering because I know that we do make a difference in the house, we are a friendly face when patients and families walk through that door the first time and all the other times they return.
"One of the biggest reasons I love volunteering at the house is my fellow volunteers," Sheila adds. "I have met some of the most amazing, caring and loving people you could ever meet and I am very blessed to have developed some wonderful new friendships.
"Being a hospice volunteer s one of the most rewarding things I have ever done. I get so much in return, and that yes at times it can be sad, but to know you made a difference to someone at the end of their life, or helped a family member during that time, well that's a feeling that words cannot describe."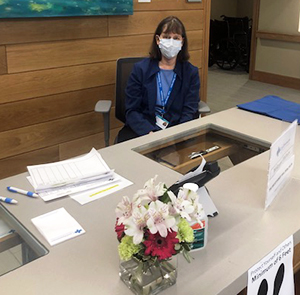 Gail Wine of Concord (CDHH)
Gail took hospice volunteer training last fall after retiring from Brandeis University as a senior budget analyst. She began volunteering with patients in November 2019.
"I think it's important for families and friends to be involved with their loved ones who are dying and I see hospice as a way of enabling this," says Gail, who has cared for three of her family members – including two of them who had hospice – during the past decade. Her mother had in-home hospice support in Maine and her sister was cared for at a hospice facility in Hawaii during her final days. She recalls both experiences were positive.
Before the COVID-19 pandemic, Gail supported the spouse of an in-home hospice patient with weekly shopping trips for them. She also had two regular shifts at CDHH. Currently, she fills shifts at CDHH reception 18-24 hours a week.
"Working for hospice fills my heart very full," Gail says. "I enjoy getting to know the families (and patients, in pre-COVID-19 times) who are going through tough times. I'm pretty good at name recall, and like to greet our visitors by name, when possible. I think it makes the experience of visiting feel a little more friendly and personal. I usually knit or crochet at the front desk, which often draws interest from our visitors and sometimes opens a connection between us.
"I have learned so much from the families as they gather around their loved ones and each other. I also love watching the CDHH staff interacting with the patients. They are so kind. I see so much grace when I am working at CDHH."
Thank you to all our volunteers, including the following additional individuals who are volunteering at our hospice houses:
CDHH:
Monique Bleriot, Denise Booher, Bill Brisk, Karen Campbell, Michele Chabot, Charlene Cotting, Gretchen Daggett, Nancy Donaldson, Tal Dinnar, Charlene Ferrone, Paula Hanks, Stephanie Hanks, Paula Herbert, Yvette Kirby, Laurel Lhowe, Sarah Mitchell, Carolyn Nickerson, Alana Osher, Susan Poirier, Alice Waugh, Lynda Renfroe, Rashmi Shah, Andy Silverman, Anne Marie Staula, Betsy Swaim, Dave Swanson, Debbie Tura, Alan Wichlei.
KFHH:
Julie Archibald, Joanne Barber, Janice Benevento, Diane Brinkley, Ginny Burke, Anne Burrell, Becky Christie, Marie Ciancarelli, Maureen D'Alessandro, Bob Doughty, Karen Dumont, Sandy Edmonds, Erica Edwards, Frank Fardy, Denise Fuller, Nancy Geaney, Carol Haynes, Robin Hoffman, Andrea Kline, Ann Laaff, Marjorie Lebroda, Eric Lessinger, Valerie Martins, Ron Mercier, Janet Montgomery, Sue Nevins, Janet O'Connor, Marie Rizzo, Barbara Schaefer, Susan Sullivan, Gail Thompson, Barbara Towski, Cynthia Turover, Wendy Weigand, and Cindy Westman.
Learn about becoming a hospice volunteer with Care Dimensions.

About the author
Lisa Conti is Senior Marketing Communications Specialist for Care Dimensions and manages its Voices of Care blog.
[ ]
Subscribe
Enter your email address to get
notified when new articles are published.
Search