Why I'll Always be Grateful for Hospice
Posted on June 8, 2018 by Ken Knowles
career as an artist
, but couldn't afford a place of my own. Dad was paying the bills and struggling to keep his house.
One day, I noticed Dad didn't look well. "You got a cold?" I asked.
"No," he replied. "But I feel sick, and I want you to take me to the hospital."
I almost couldn't believe what I was hearing. Dad had never said that before. We didn't interact a lot, but I thought I would have known if he was really sick.
I brought him to Addison Gilbert Hospital in Gloucester. After a while, the doctor came out to the waiting room and told me that my dad had to be transferred to Brigham & Women's Hospital in Boston right away. Later that day, I learned that Dad had a baseball-sized tumor in his liver and the doctors in Boston said he did not have much chance of surviving.
Dad was 52 years old. He tried chemo mobilization treatment in the hospital for a couple of weeks, but just became sicker. He wanted to be home. My aunt suggested hospice. I didn't know what that was, but I soon discovered it was the best possible course for my dad, and for our family.
How hospice helped us
Hospice of the North Shore (now Care Dimensions) came to our house. They brought in a hospital bed and set Dad up with medications to ease the pain. He was able to have visitors. My mom came a couple of times. All of his friends visited, including some he hadn't seen in years who wanted to make amends.
Dad was glad that he was able to remain at home, and we owe that all to hospice. Not only did hospice make him comfortable, but they helped me and my family cope with the whole situation. They got us all on the same page about how Dad was going to live out his final chapter and what we would do. I wasn't ready for my dad to die and when he first came home from the hospital, I didn't know what to expect. But hospice helped me
understand EXACTLY what to expect
, week by week, right up to Dad's final day alive.
The hospice team helped me cope with my emotions and the logistics of caring for Dad. I learned how to manage his medications, bathe him, and look for changes in his condition that I should report to the hospice nurse.
During Dad's final weeks at home, I would wake up in the morning and get a rush of fear that Dad was dying, but then I remembered that hospice told me what was going to happen and what I should do. That created a solid foundation for me to stand on so I could deal with it. It's a gift to have doctors and nurses tell you what to expect. I didn't realize I wanted to know, but it helped.
It's amazing that the hospice team understood how long Dad was going to last. During his final week, he couldn't talk, but I knew from hospice that he could hear. I asked him to squeeze my hand, and he did. In the morning on the day he died, the hospice nurse said he won't make it past today. I went upstairs and held Dad's hand for a while. I leaned in close to his ear.
"It's OK, Dad," I said. "It's OK to go." I watched him take his last breath as he passed peacefully from this world.
I had been afraid of death, but after Dad died on hospice, I came to see it in a different light. Death is actually beautiful in some ways. It's a passage, like birth. And while it was sad to lose my dad, I am so glad that hospice was there for him, and for us.
Giving back to Care Dimensions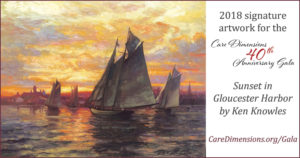 My painting career has since flourished, and my way of giving back to the community has been by supporting Care Dimensions. Each year, I throw a party for about 350 clients and exhibit my work. I give a percentage of the sales to Care Dimensions. I am honored to be selected – for the second time – as the signature artist for the
Care Dimensions annual gala
, which is the nonprofit hospice's largest fundraiser of the year.
The piece I've selected to be auctioned at the gala,
"Sunset in Gloucester Harbor",
may be the most brightly colored painting I've done. When I painted it, I wasn't thinking specifically about submitting it for the auction. I liked it, however, and it came down to choosing this or another painting, which my wife liked better. My mother-in-law cast the deciding vote, and I feel like I've succeeded in creating an eye-catching painting with a lot of color that isn't garish. I hope it brings in a very high bid so more patients and families can benefit from
the array of hospice and support services
that Care Dimensions offers.
"Sunset in Gloucester Harbor" by Ken Knowles was auctioned off at Care Dimensions' 40th Anniversary Gala at Tedesco Country Club in Marblehead on June 15, 2018. Learn about ways you can help Care Dimensions continue its mission
.
When I was 25, I was living at home with my father in Gloucester, MA. My two older brothers had left the house, and my mom was living in Maine. I had begun my
[ ]
Subscribe
Enter your email address to get
notified when new articles are published.
Search