Pet Therapy Dog Tessie Brings Comfort to Hospice Patients
Posted on March 20, 2017 by Tessie Pet Therapy Dog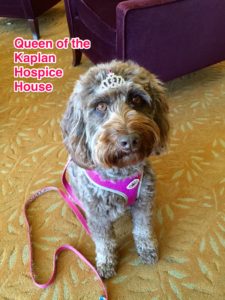 Wednesdays are the best day of the week!
My human says in a cheerful voice, "Do you want to go to the
Kaplan House
and put smiles on people's faces?"
Off we go to visit patients at the Kaplan Family Hospice House in Danvers, sometimes sporting a decorative outfit in addition to my harness and leash.
At their request, I have lain in bed with patients or at their feet. I've also sat quietly in a bedside chair. A few patients have asked if they could take me home!
Many of the patients tell me about the pets they have had over the years. As they tell their stories, they seem to pet me continuously. That is a wonderful feeling!
Recently, I sat with a patient. My human, the patient, and his family all chatted away. When I left, the patient said, "You made my whole day!"
Volunteering
at the Kaplan House has been a wonderful experience for me and my human. I bring comfort, smiles, and relaxation to many patients each week.
Thus far, I have made over 100 visits to the Kaplan House and look forward to many more rewarding visits.
Tessie
Care Dimensions Pet Therapy Dog
Learn more about Care Dimensions'
pet therapy program and other complementary therapies
for hospice patients.
[ ]
Subscribe
Enter your email address to get
notified when new articles are published.
Search